This needs to be manually set from within the app. Just go to KLWP's app settings >> General settings >> Main Storage. Set this to your main Kustom folder.
That's a different thing, I have done that and most of my files are under that folder and it still doesn't find them. I'm talking about this permission. KWGT has it and works as usual.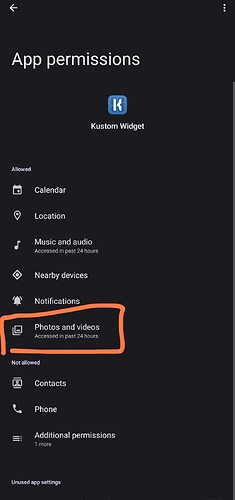 KWGT must be an older release, latest beta that targets API33 has that permission removed, the reason is that READ_EXTERNAL_STORAGE is deprecated (and is not granted) when targeting Android 13+. I need to add READ_MEDIA_IMAGES instead, which is not really needed since you can use Flows to read any folder.
I understand, my setup works with tasker and iconzy and the missing permission broke all of that, I'll try to rework it with flows, thanks for the reply.
This topic was automatically closed 25 days after the last reply. New replies are no longer allowed.